So while I should have been busy crafting today, I realized a book my sister loaned to me 2 weeks ago on my Nook was about to expire, so I had to finish it tonight. I just finished it and I must say I was impressed. The book is called Something Like Summer, and it was a rather interesting read.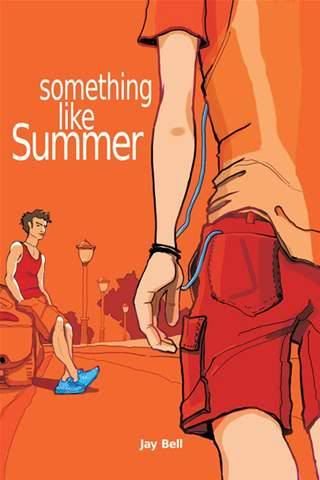 It's a romance novel about two teenage boys, Ben and Tim, who meet one summer due to Ben's crush on the mysterious new guy in town Tim. Something happen that lead to Ben and Tim being together. They had a hot and steamy love affair, but some issues caused them to have to split up. What follows is 10 years of life, love, and chance meetings. Some really sad things happen along the way that leads to a bittersweet ending. I wouldn't say this book was destined to be one of the great classics of our time, but it was a rather good read.
Some parts I felt were rushed in the story, but it flow non-stop so that was good. The author, Jay Bell who is a gay man himself, told the story in such a way that you didn't view the story as "a love story between two guys" but more as "a love story between two people". I will warn you now, some of the sex scenes are written in a slightly graphic way, but nothing to raunchy…nothing worse than what you'd find in your male/female romance novels.
But I think anyone could relate to this story. Young love, first love, and even a love triangle, which is what our main characters find themselves in after a while. So if you are into romance novels, pick this story up. I really think you will like it.
Sadly though, in reading the book it has gotten to late to craft, so I guess I will watch some things online and call it a day and make better use of my time tomorrow. Not that today was a total loss. I got to spend time with a friend and finish a good book. Win/win? I'd say so.
Talk to you all later. Be good until then. Bye for now.
Loves ya
,
Mouse